Smoke-Systems Terminal
Smoke-EL
The

G-Force SmokeDriver

will be delivered with a default configuration.
4G force,

1 sec. additional smoke time and

50% pump output for center smoke.
You can change the parameter via the transmiter of an RC-System.
Easier and more comfortable, you can use our Smoke-Systems Terminal.
Simply connect the AUX1 of the GF-SmokeDriver with the BlueCom adapter from PowerBox
and connect your smartphone with the BlueCom.
Even if you use an

Android device

,
please use the

BlueCom Adapter (IOS)

.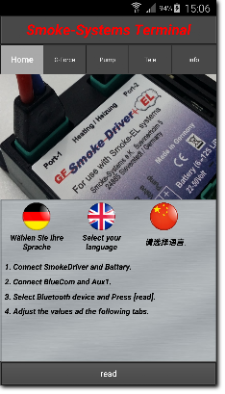 Once the connection between the app and the GF-SmokeDriver is established simply adjust the parameters to your liking.
There is no manual available and not needed. The screenshots show the app's user interface.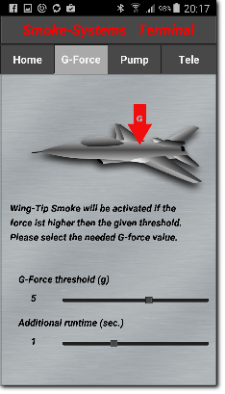 <<<
After the connection is made via Bluetooth,
the app automatically change in the tab [G-Force].
On these pages the G-Force threshold and
the delay time can be set.
The setting is done simply by dragging the sliders.
The values are transferred immediately to the Smoke Driver.
On the page [pump], the pump speed
for the Center Smoke can be set .
Values 25 - 100% are possible.
100% corresponds to 600ml per minute.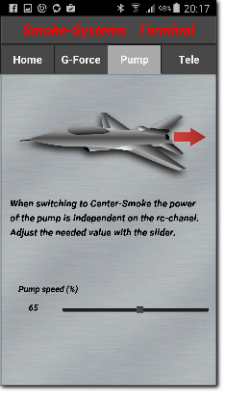 - The Smoke system terminal is available for free download -